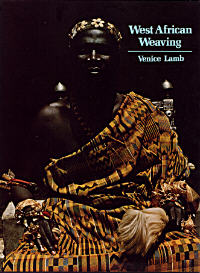 West African Weaving
Venice Lamb
---
ISBN 0 7156 0905 X ,size with 80 full colour illustations and over 400 monochrome illustations,
Cloth bound,price £38 plus postage £3.50.
---
| | | |
| --- | --- | --- |
| In its beauty and originality of design, the narrow strip weaving of West Africa is on a level with other indigenous art forms such as bronzes and masks for which this region is justly famous. The unique system of making large cloths, for clothing, domestic and ceremonial use, by sewing together narrow woven strips, usually less than five inches wide, is of ancient origin. Well-preserved cloths from as far back as the eleventh century AD show the remarkable continuity of tribal designs. | | In this book, Venice Lamb offers the first comprehensive survey of narrow-strip hori­zontal-loom weaving in West Africa. She examines not only the history and techniques, but also the geographical distribution and present economic development of this form of weaving. Having travelled extensively in West Africa, she describes the textiles of many regions, from Dakar in Senegal east­wards to Cameroun, and northwards to the sub-Saharan states of Mauritania, Mali, Niger and Chad. The most spectacular weavers, however, are the Asante and the Ewe, and it is their art which is described in most detail. |
The text is accompanied by five new maps showing tribal zones, and over 400 photo­graphs, many of which have been specially taken to illustrate existing cloths and techniques, and many others drawn from nineteenth century archives, hitherto unpublished.
---

homepage,cameroun weaving,sierre leone weaving