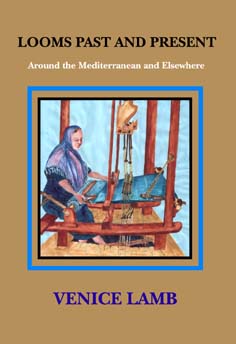 Looms Past and Present
Around the Mediterranean and Elsewhere
Venice Lamb
---
ISBN 0 907129 23 4 2005,160pages,76 colour and 414 monochrome illuustrations,400x163mm,cloth
Price £29.95 plus postage £3.50
---
The loom is the essential piece of equipment for all types of weaving. It is a very ancient tool, invented in prehistoric times, enabling people to make a wide range of essential basic fabrics for their every day lives, such as clothing, bedding, mats, rugs, tents, harnesses, straps, and so on. A surprising fact is that the basic technology of weaving has remained virtually unchanged since its invention; modern looms are really no more than adaptations of the basic design. And the history of this adaptation and modification by generations of weavers reveals much about the spread of peoples and their culture. For this reason, the Mediterranean regions are particularly fascinating because they contain a wide variety of early looms, some of which can be traced even farther afield to other parts of Africa, Central Asia and China. What is of even more interest is that all these early loom types are still to be found in active use as part of vibrant weaving industries, worked by a whole host of supporting weavers, spinners and dyers, who continue to supply their own traditional garments and household fabrics in an active economic context. Many of these looms and their weavers, through their proximity to Europe, have had a profound effect on western loom design, and therefore reveal much about the roots of our own industrial society.
| | | |
| --- | --- | --- |
| | | |
This book provides a detailed historial and technical study of the nine basic types of looms that still occur around the Mediterranean - ground, mat, tablet, vertical, pit, integral frame, draw, and passementerie - and also examines their relationship with other looms of the same type farther afield, especially in China, South Asia, Iran, and Africa.The historical movement of weavers and their effect on textile centres is also examined, as well as many types of specialised textiles and techniques.
The study is based on original field work carried out by Venice Lamb, particularly in Syria, Egypt, the Balkans, North Africa, South Asia, Mallorca, and the Cape Verde Islands, as well as drawing on the author's considerable knowledge of looms and textiles in West Africa.
The book is clearly illustrated by 414 black and white field pictures and line drawings by the author, as well as 76 colour pictures.
Venice Lamb has published four other books on the West African looms and textiles: West African Weaving, Duckworth, 1975; Nigerian Weaving, Shell Nigeria, 1980; Au Cameroun: Weaving-Tissage, Elf Serepca Cameroun, 1981; Sierra Leone Weaving, Roxford Books, 1984.

---

homepage*cameroun weaving*west african weaving sierra leone weaving